Handyman's services for the elderly catching on
Original article featured on Denton Record-Chronicle.
Written by Sarah Sarder July 22, 2018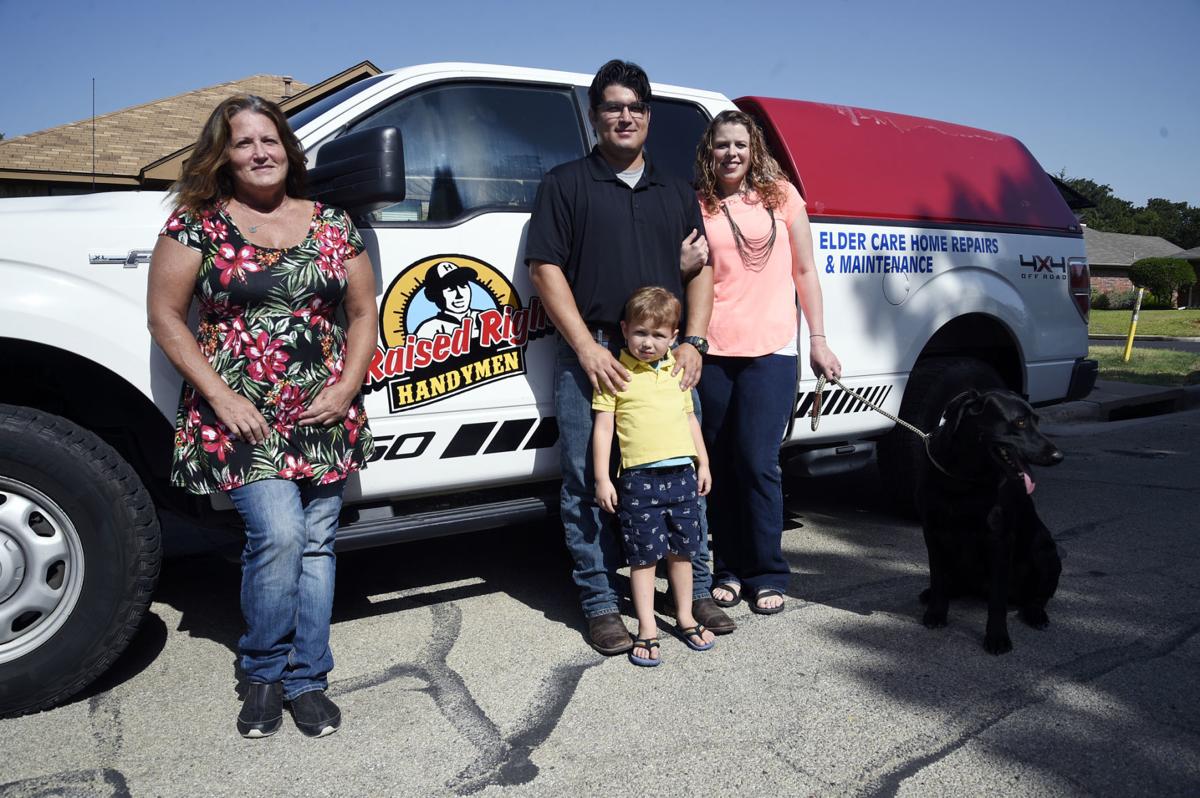 Caleb Lopez is well aware of the fact that for some, a simple household task can become harmful or even fatal. He is passionate about helping older people avoid these situations, as well as the often predatory businesses that attempt to offer their services.
Raised Right Handymen of Denton is his brainchild, a home repair and improvement service geared specifically toward older adults.
"As people get old, these little things get overwhelming," he said. "People that need the most help are older."
Lopez, 33, never really planned the business. It came about on its own, born from his enthusiasm to help his elderly neighbors and word of mouth.
"I'm still not convinced I'm doing this for real," Lopez said. "It's a little bit more fantastical than real."
He had worked in the oil industry doing dangerous but well-paying jobs for about 15 years when he moved to contracted mechanical work.
In December, Lopez was laid off from that job, where he'd grown concerned with his own mother's need for help. He began helping her around the home, followed by aiding a few elderly neighbors. Soon, word of mouth spread that Lopez was a trustworthy and respectful handyman, increasing the number of jobs for which he was requested.
The business became serious in March, when Lopez realized the requests had become frequent and consistent. Many of his early customers became regulars, and the people he did work for sent more customers his way.
"Old people are scammed a lot, that's why word of mouth has always been the most important referral for me," Lopez said. "A majority of my customers come from word of mouth."
His clients ask for help with a variety of tasks, from mowing the lawn or changing door knobs to appliance repairs and more.
Often, Lopez said he finds seniors with numerous hazards in their home, such as rugs that aren't nailed down, inadequate lighting or even gas leaks. Lopez said if there is a safety issue, he will work for free if necessary.
He also volunteers when he can for the nonprofit Hearts for Homes, which offers free home repairs to low-income seniors.
"If I don't have business that day, I might as well help people," Lopez said.
Working with older individuals has had a significant effect on Lopez, who says he's seen much of the frightening parts of growing old and losing loved ones. As someone who works with many women whose husbands have died, he sees the ease with which people can slip into destitution or hoarding.
Sometimes these individuals feel they can't ask for help because they are ashamed of their living situation, Lopez said, but he's learned not to judge.
"Some people take for granted being able to go into the attic and just take a look at what's going on," he said.
That's where his services come in. Lopez will do even small tasks to help his clients, such as check circuit breakers or change a light bulb.
"The pressure of age — that someone 30 years older than me can die changing a light bulb — has had a profound effect on me," he said.
Now that he's had experience with what he sees as the universal experience of aging, Lopez says he finds it absurd that there aren't more services like his.
"There should be more handymen who do what I do," he said. "I wish I had more competition. It shouldn't be one guy in one town."
One of Lopez's goals is to show that the Raised Right business model is profitable so other handymen join in on catering to elders.
His long-term plan for the business is much larger. Lopez hopes to incorporate additional aspects of home repair such as plumbing, electrical work and air-conditioning repair into Raised Right by hiring employees in those fields.
He said he hopes his wife, Ellen Lopez, will also become involved, as she is working toward her nurse practitioner license and could provide care to seniors.
Ultimately, he would like to see the business run completely on donations so older adults can receive repairs free of cost.
It's terrifying to see what can happen to you at a certain age," Caleb Lopez said. "The elderly still have things they want to do, they want to continue to live comfortably and to feel they can influence the environment around them. It's depressing but I don't think it has to be that way."